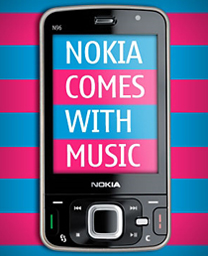 It's finally official, folks! The
Nokia N96
has been added to the shortlist of models which you can use to download unlimited music from Nokia Music Store for free. Until now, the only chance to be able to jump into Nokia's ocean of more than 2 million tracks was to have the Comes with Music editions of the
Nokia 5310
and
Nokia N95 8GB
.
The new Comes with Music edition of Nokia N96 will set you back 540 GBP (around 570 euro or 800 US dollars), which is about 60 GBP more than what you would pay for the standard version of the phone. What you get for that extra money is the permission to download unlimited number of tracks from the Nokia Music store.
As we've already mentioned, not everything about that great sounding service is actually that great. Of course, there is a catch. Several, in fact. But you can read all about them here.
The Nokia N96 Comes with Music edition is expected to become available sometimes in January 2009. In the meantime feel free to check out our review.